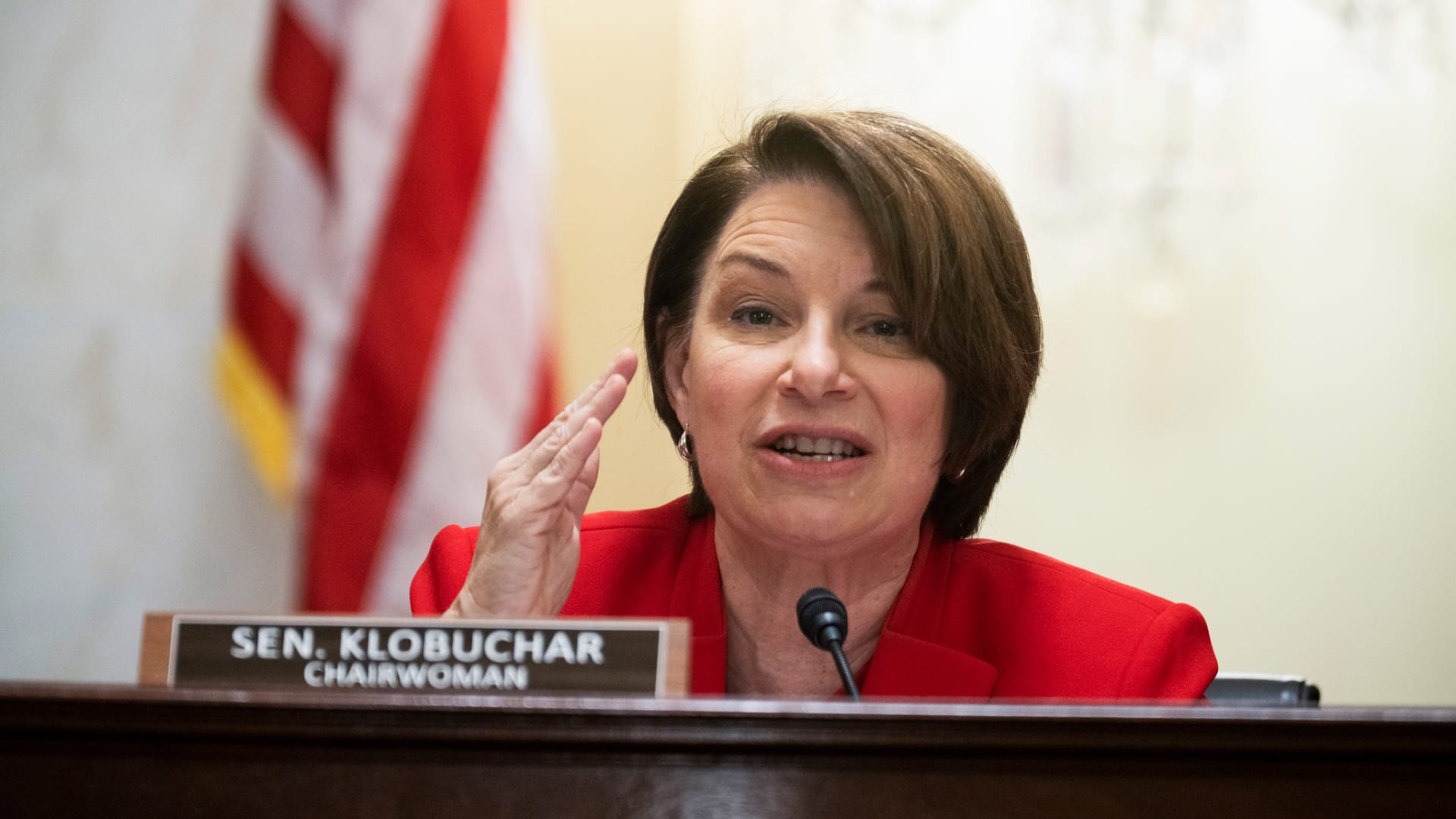 Update: The Senate Judiciary Committee voted to advance the American Innovation and Choice Online Act on Thursday, 16-6, with five Republicans joining Democrats to vote in favor.
To hear its Senate sponsors talk about it, years of effort to get traction in limiting the marketplace power of the big-tech platforms is seeing its first milestone.
A bill that would restrict America's biggest tech companies from downplaying rivals' products and services, or promoting their own, is currently slotted for a committee vote in the Senate on Thursday. The committee approving the bill, dubbed the American Innovation and Choice Online Act, would pave the way for the bill to be voted on by the full Senate, and reconciled with a similar bill that passed the House.
"They control dominant positions in the search markets, whether it is retail for Amazon, whether it is search for Google, whether it is Apple's dominance, we're talking 90 percent in some cases," Senator Amy Klobuchar (D-Minn.), the bill's co-sponsor, tells Inc., adding that among the chief goals for the bill, "we're simply saying they cannot self-preference."
While the text of the now 18-page bill makes no specific mention of tech giants, including Google, Apple, and Amazon, it is structured precisely to target them, and companies that amass similarly sized businesses in the future. The bill specifically limits the ability of what it calls "covered platforms"--defined as platform companies with more than $550 billion in market capitalization or annual sales, with a user base above a high threshold--from privileging their own products and services, in what advocates of the bill refer to as "self-preferencing." The only companies that match those numbers today are those big three and Meta, the company formerly known as Facebook, with Microsoft potentially facing some future restrictions if any of its products are defined as a platform of sufficient size. Twitter would need to grow its market cap by nearly 20 times to be considered, and TikTok's last funding round valued it at less than one-quarter the size of the threshold.
Senator Mark Warner (D-Va.), a former venture capitalist and a bill co-sponsor, calls it a win for startups today. He cites big-tech firms' power to influence which companies succeed and which fizzle. "If you're a startup in America today--in platforms, in many of the IT services--your only exit is to these large enterprises," he said, noting that the lack of options creates an uncomfortable tension among startups. "That's not gonna have the kind of free market entrepreneurial atmosphere and ecosystem that we need."
The kinds of companies that could benefit from the legislation are indicated by the group of smaller-but-still-quite-large companies lining up to back the bill. Endorsements of the bill have been published by Yelp, Spotify, Roku, Match Group, Sonos, and startup incubator Y Combinator, among others.
Apple and Google have been vocal in their opposition, and pushed lobbying efforts against the bill. The firms assert that customers will be worse off, and that products will be less secure, if the bill becomes law. For example, if Apple is required to allow apps to be installed on phones through "side-loading" instead of the app store, Apple would no longer be able to screen those apps before they get to users. And that might amount to a security risk, the iPhone maker notes.
While the bill's future is still uncertain, the legislation does enjoy heavy bipartisan support, with six Democrats and six Republicans as sponsors and co-sponsors in the Senate. A counterpart bill in the House is similarly bipartisan, with 14 Democrats and eight Republican co-sponsors.
Senator Chuck Grassley (R-Iowa), a sponsor of the Senate bill, notes, "We've reached a consensus on the economic platform to get a bipartisan approach to curtail big tech's power." Grassley even went on to praise President Joe Biden for instructing agencies to examine issues of competition, asserting "one of the places that I agree with Biden is on this competition approach that he has ... the president just brings emphasis to it."
As the bill moves forward, it brings into focus a question about exactly when growing a business becomes anti-competitive. Apple and Google are rivals in devices and software, and Amazon competes with both--and every retailer in the world--in various ways. But seeing all three platforms together as one anti-competitive tier of companies that needs to be regulated is a change for Washington.
The definition of anti-competitive and anti-trust practices has been shifting inside the Beltway in recent years. While conventional wisdom posited that the most important factor in competition is price--that is, if customers aren't paying too much, things are working smoothly--Warner suggests that the thinking today should change. In the trajectory of big-tech firms, he says, "You may have some price efficiencies at the beginning, but as these companies come to dominate, as they have, their ability to then change the pricing structure because they have no competition is something we've got to be concerned about." So, in other words, you may not be paying much now, but what about later?
Unlike Klobuchar and Warner, Grassley prefers not to use terms like "monopoly" and "trust" in describing his support of the bill, but mentions the same themes: "I want the marketplace to work, and the government should only interfere when markets aren't working," adding that his starting point for defining markets as not working is, "when I hear about people having their products more difficult to sell because of self-preferencing ... that my constituents don't feel the playing field's level."
It's a sentiment shared on both sides of the aisle. "We want competition," Klobuchar asserted, adding, "We don't want to bemoan success, but we want competition."
Jan 20, 2022