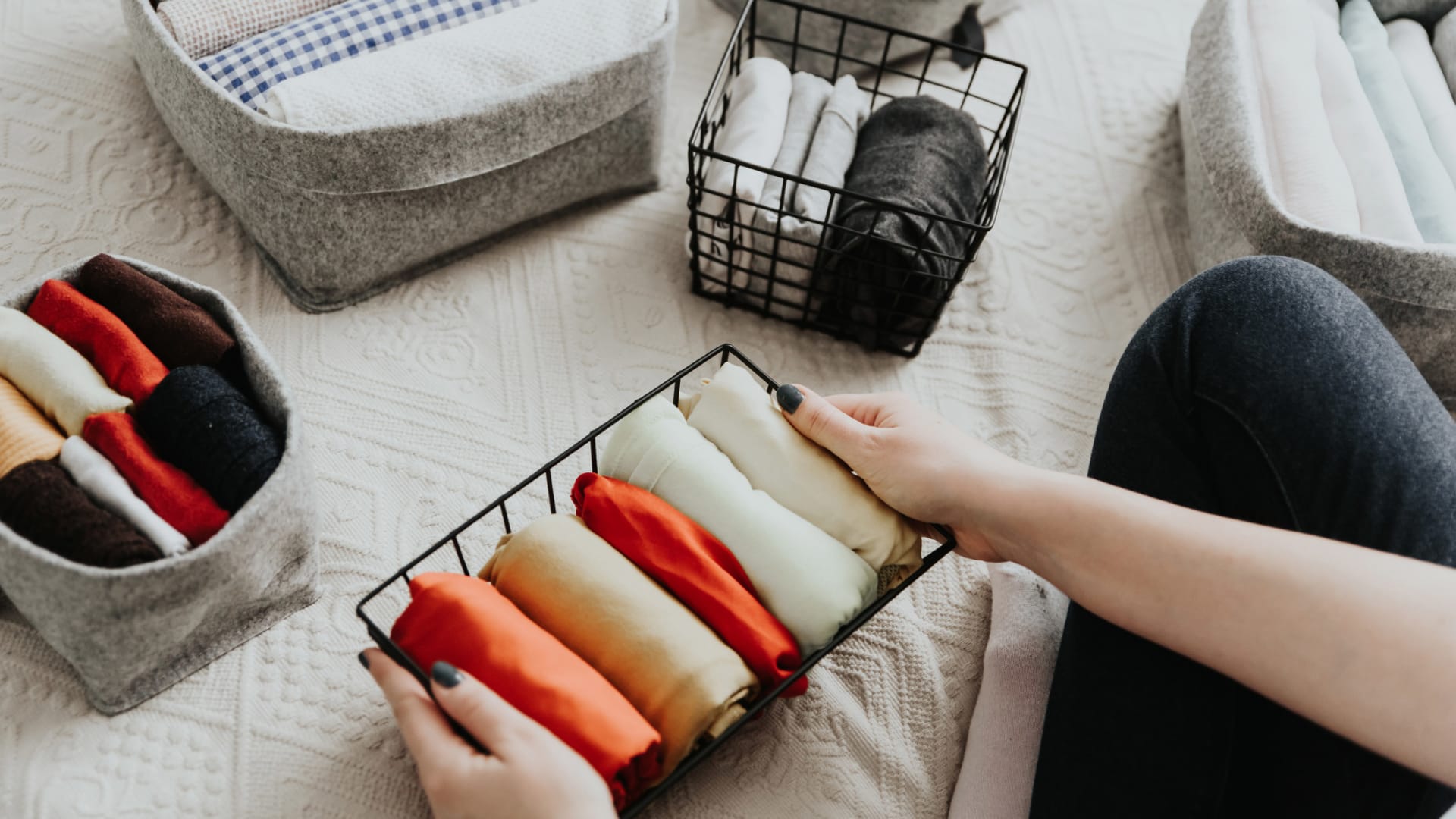 I received the opportunity of a lifetime when Katarina Moy-Gard picked me to do a thorough Marie Kondo clean-out of my home. Moy-Gard was completing a certification (which she now has) to be an official KonMari-method organizer and needed a volunteer. I've never volunteered so fast in my life.
Most of you are familiar with the Marie Kondo organization method, which does not focus on putting things where they go but focuses on getting rid of things that don't spark joy. As we went through my closets, cabinets, and paperwork, Moy-Gard asked me, "Does this spark joy?" and "How many hot pads do you really need?" (I insisted I needed all 10 in my kitchen, and she asked me again, "Just how many hands do you have, and does your whole family run around holding hot pans at the same time?" Answers, two hands, and no. I cut down to four and haven't missed the ugly six I threw out.)
With almost all the non-joy-sparking stuff out of my house, I found it so much easier to keep my house clean and find things, and I generally felt happier as I looked into my dresser drawers filled only with clothing that I wear. Plus, she even taught me how to fold fitted sheets.
And then I took the KonMari method over to my job. If getting rid of the things that didn't spark joy brought me so much happiness at home, couldn't I do the same with my job?
Being a solopreneur, I have more control over my job than I would if I had a boss. But, even if you aren't the owner, you can adopt some of these methods yourself. Here's what I did.
Emails that don't spark joy--gone
My email address is public (evilhrlady@gmail.com). I need it to be like this because that's how I generate new clients, get tips on breaking news, and make contacts. But I also get so, so many worthless emails, and people think they can add me to their newsletters without permission. I reached the point that I dreaded opening my email each morning.
While I can't just dump email, I found a solution to eliminating the emails that don't spark joy: I hired a virtual assistant. She spends an hour a day going through my inbox, and she deletes, categorizes, and answers emails. When I open my email box now, it's pure joy. Things I need to handle, questions to answer, and potential clients. Gone are the spam and the PR messages about how Jane Doe is available for an interview for a topic I wrote about three weeks ago.
Clients that don't spark joy--gone
Again, as a solopreneur, I have total decision-making power over whether I will take on a client. I have some clients I love and some that drove me absolutely batty. I kept the ones who drove me batty for a long time because I was afraid of losing income if I dropped them. But the stress kept me from growing my business and focusing on good clients. So I KonMari'd them straight out of my life. Whew! Only clients that spark joy.
Revamping how I look at résumés
Résumés are marketing documents, which means you don't need to include every little detail about your jobs on them. They also need to be brief (no more than two pages) and focus on your key accomplishments.
For a long time, I would go through résumés with clients and think, "What can I eliminate?" Moy-Gard's constant refrain of "Does this spark joy?" replaced that question. Now I take massive lists of responsibilities and accomplishments and ask, "Does this achievement spark joy?" and "Will this achievement spark joy when a hiring manager or recruiter reads it?"
It makes it so much easier to find the best things when you look for what to keep rather than throw out. I feel like I'm serving my clients better since switching to this method of determining what goes into a résumé.
Remembering the toilet brush principle
I joked with Moy-Gard (and I'm sure all her other clients do too) about how I'd like to eliminate the toilet brush and all tax documents as they don't spark joy. She had an answer: These are tools, and when we use these tools, the results bring joy. While I doubt that answer about taxes (joking: I like roads too), the toilet brush made great sense. I love a clean bathroom, and that helps me get there.
This principle applies in a lot of areas. I hate doing invoices, but doing invoices brings in payment, and receiving money sparks joy. I hate the process of editing articles, but having a polished article brings me (and the client!) joy.
Switching my mindset from "ugh, this is so boring" to "doing this will bring me joy" really makes a difference in my attitude. Finding out where the joy comes from in mundane or tedious tasks makes a huge difference in approaching them.
It turns out that deciding whether something sparks joy can make a huge difference in all areas of life.
Sep 22, 2021