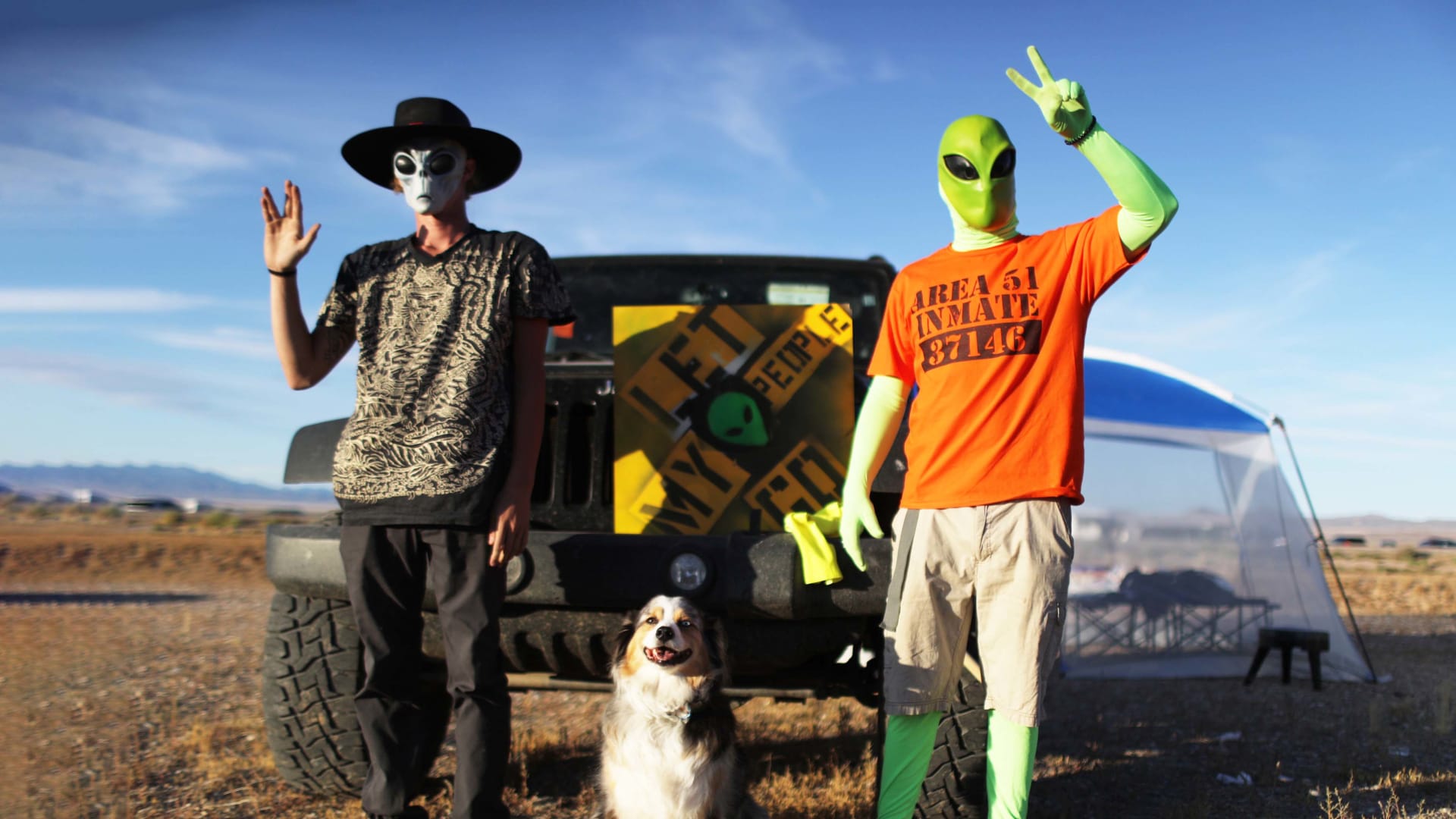 Few phenomena excite the American public like aliens. And with last month's publication of the U.S. government's highly anticipated Preliminary Assessment: Unidentified Aerial Phenomena document--referred colloquially the "flying objects" report--alien-themed businesses are predicting a surge in tourism, and with it, rocketing sales.
"People will start coming after they read the report," says Cindy Campbell, the owner of the Atomic Inn, an alien-themed hotel located a few miles from Area 51, a United States Air Force facility, formally known as the Nevada Test and Training Range. The site was developed during the Cold War as a testing and aircraft development facility, and has since become the seat of popular UFO conspiracy theories. "Area 51 is extremely famous, and people will travel here just to be close to it," she says.
That's not to say the report itself is all that illuminating. Officials from the Office of the Director of National Intelligence, the federal agency behind the report, declined to confirm the existence of extraterrestrials. The report also failed to explain 143 of the 144 reported cases of unidentified flying objects seen by military pilots. The one incident it detailed was chalked up to a large, deflating balloon.
Even so, local alien-themed businesses near both Nevada's Area 51 and in Roswell, New Mexico--another hot spot for extraterrestrial intrigue--are getting ready for an uptick in travelers, citing the renewed interest fueled by the report.
For its part, the Atomic Inn is boosting its inventory of custom-made alien soap, shot glasses, facemasks, and hair bows--all of which are designed by local artists. Campbell says she is also sprucing the place up, adding to the existing alien-decor that includes space-themed road markers that lead guests to their rooms. She pointed to a recent mural installation right outside the hotel, depicting a large desert with small aliens hidden throughout. While Campbell said most of the inn's long-term guests, both historically and during the pandemic, are those who work at the government-contracted Nevada Testing Grounds, she believes traditional tourism will return.
Dominic Vatista, souvenir shop co-owner at Roswell's Hangar 209, says he agrees that tourism will pick up--but it isn't fully a product of the report. He attributes the store's recent growth in sales both to the opening of businesses post-pandemic, as well as people's increased skepticism towards the government after Covid-19. "Recently, more customers than usual have come in and brought up questions about the UFO reports," says Vatista, whose shop sells alien-themed books, coffee, and jerky. "And in many of my conversations, people have hinted that the government is capable of hiding something from us. Covid has shown us there's a truth to that."
No matter the exact reason for an uptick in sales, Hangar 209 remains prepared. The shop recently increased its backroom inventory stores, and expanded its book and shirt selection.
In effect, what the government did by not providing answers in that report is fuel more intrigue, says Max Stacy, the manager at Alien Invasion T-Shirts and More, an alien apparel store in Roswell. He notes that the majority of the shop's customers are tourists who've flocked to Roswell after reading about alien conspiracy theories on the internet and on social media. But now they have more questions, says Stacy. "Now that there are so many documents being released that aren't providing explanations, people are becoming more curious."
Jul 3, 2021