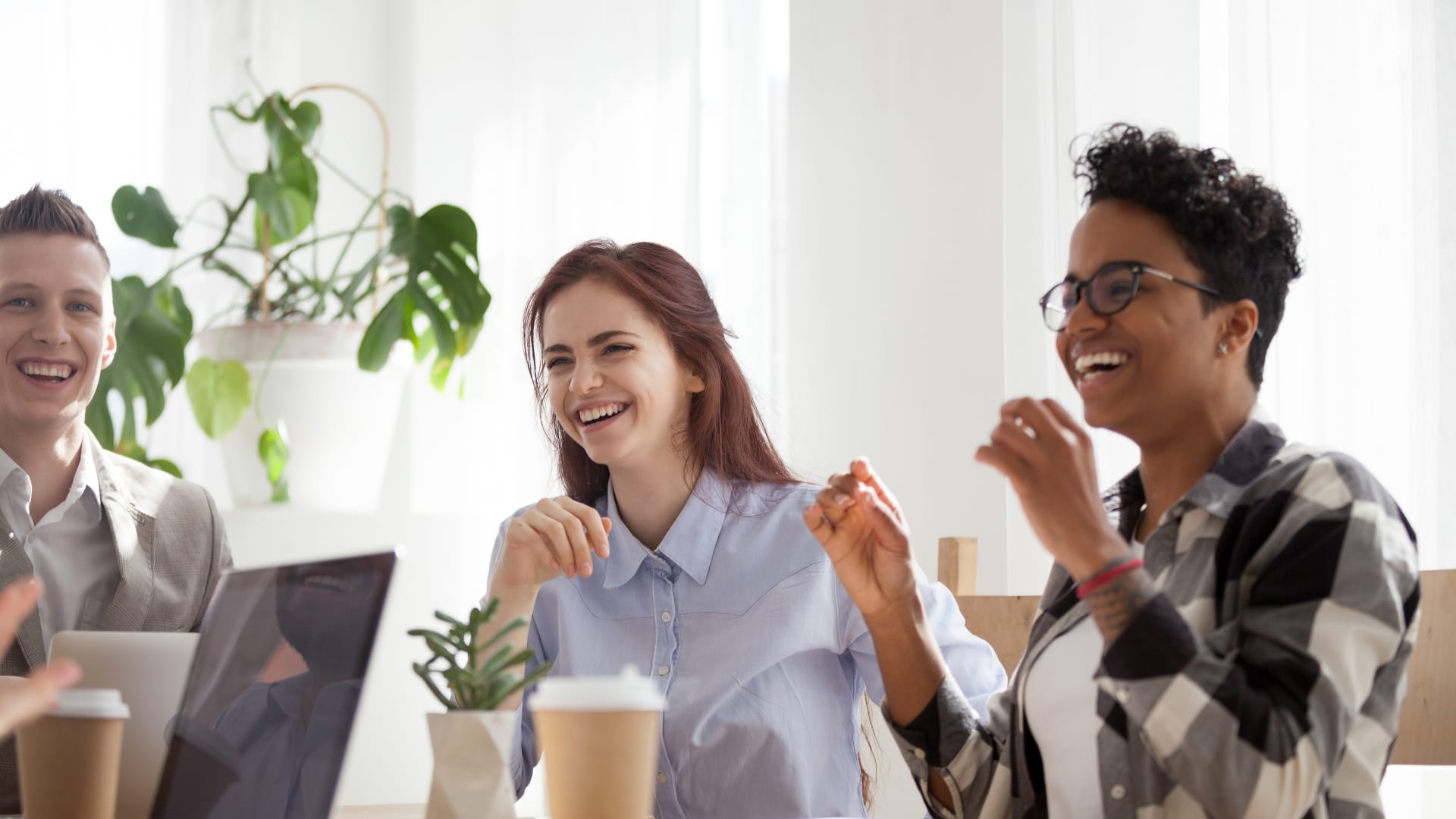 Nurturing a positive company culture against the backdrop of a global pandemic is challenging, to put it mildly-- but vitally important. As some employees return to the office for the first time, small businesses must find new ways to embody company values, support employee well-being, and foster connections between teammates, no matter where they are working from.
Dawn Cone, PhD, a management consultant and executive coach, says culture has never been more important to a company's success, because employees are more discerning than ever.
"Employees are perceiving that they have more choice when it comes to working for the best employers, working from home, or working for themselves," she notes.
To attract and retain talent, you need the right culture. These best practices can help.
Audit your culture
Culture can be defined simply as "how we do things around here," Cone says. The pandemic changed operations, and priorities, for many businesses. So assess your company culture, and make sure it still rings true.
Cone suggests asking yourself:
What are the company's core culture values going forward?
How will we reinforce these core culture values?
How do we want to do things around here to respond to new realities?
What will help us move forward together to create community, support the team, and achieve business goals?
Loop in the team
Consult key team members to ensure your culture is authentic. Also be sure to consider the needs and preferences of different generations. For example, 42 percent of Gen Z workers prioritize work-life balance over other perks, according to a survey by GOBankingRates. Ensure your culture-- and benefits program-- resonates with younger employees.
Be mindful of change management
Whether companies should enforce "back-to-office" requirements depends on their business needs and values, says Jennifer L'Estrange, founder and managing director of Red Clover, an outsource HR firm.
If you do plan to bring people to the office full-time, "consider the change management and communication requirements of such a shift," she says.
Also be sure to communicate why you have made this decision, advises L'Estrange, and emphasize how employees will benefit from in-person work.
Create perks for all workers
Whether employees will be there in person some or all the time, you will want the office to be inviting. Courtney Campbell, owner and creative director of Campbell Creative, notes the importance of office perks.
"Think of incentives like complimentary healthy snacks, free coffee bar, water refill stations, game rooms, shuffleboard, collaboration spaces, breakout rooms, and lounge areas. Bike stations to lock up the bike for those that ride to work, bathrooms with showers, and outdoor space to get some mid-day sun are all great additions."
And don't overlook remote workers. Campbell says a "Happy New Year" or "Happy Work Anniversary" care package filled with company swag is a great way to make remote employees feel appreciated and connected to the business.
Serve your team
Jade Green, an HR consultant and small business leadership and recruitment specialist from Team: Engineered believes investing in employee happiness is the biggest productivity and profitability hack. She urges entrepreneurs to find ways to serve every employee.
"If you serve them first, then they will serve you," she says.
Providing training and skills development is an important element of supporting your team. These programs can improve job satisfaction and help you groom future leaders.
"We see more organizations looking to build rather than buy their talent," L'Estrange says. "There is a shift toward building career development plans and coaching people from inside the organization to take on roles of increasing responsibility."
Think bigger than profits
Eighty-two percent of employees feel it is important for a company to have a purpose, and 72 percent believe purpose is more important than profit, according to research from McKinsey. So, define and communicate your mission and help employees connect their day-to-day work to the greater purpose.
"When your team is fully aligned with your mission, they have more drive and passion for doing their jobs," Green says,
Talk openly about mental health
Recognizing when an employee is struggling is a challenge when you work from different places. "Prioritizing mental health in remote and physical settings has to begin with awareness, openness and vulnerability," says Gary Blowers, CEO of LVL Wellbeing, a leading corporate wellness company. Blowers suggests organizations talk openly about burnout, as well as other mental health concerns, such as anxiety and depression.
"Leaders need to direct their teams toward resources to support their mental health and physical health," he says.
Never check "culture" off your to-do list
Preserving your culture is an ongoing effort. Green sends employees a voicemail every Friday night telling them how grateful she is, and "how epic they are as humans." She encourages entrepreneurs to find their own ways to curate culture and empower the team.
In today's tumultuous and competitive climate, culture could make all the difference for your business. With intention, communication, and commitment, you can support your team's well-being and build a workplace people will want to be a part of and stay with.
Apr 15, 2022