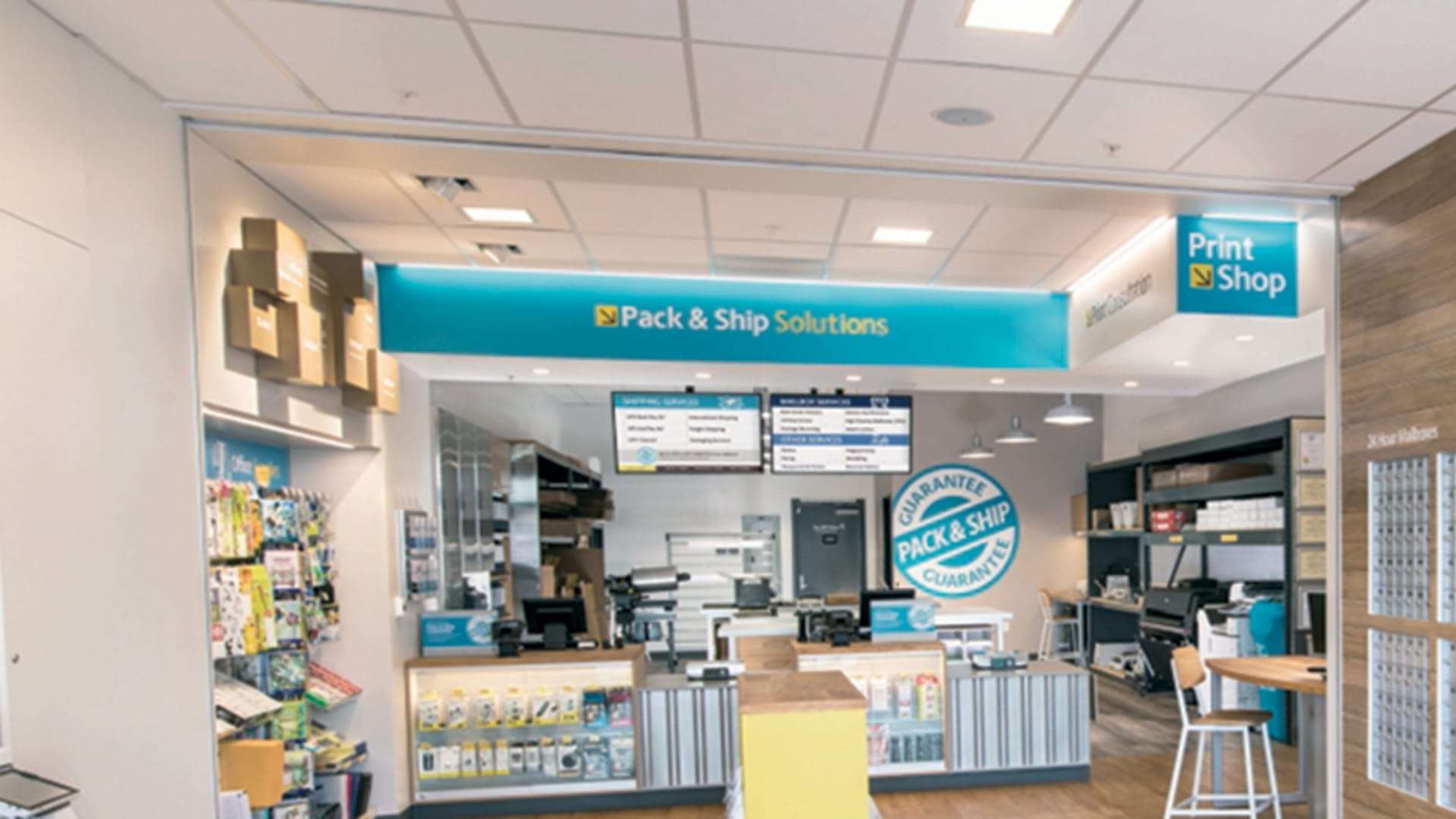 "We're on your corner and in your corner."
That, according to Gary Williams, Jr., is the magic of The UPS Store®--the brand with which he has been associated for 15 years.
Being "in your corner" has led The UPS Store network to undergo a massive redesign project, one designed to improve upon virtually every aspect of the customer experience. Williams was one of the key franchisees who were consulted on the store redesigns.
The Williams family began owning franchises back when The UPS Store network was just getting started. Today, Williams and his family are area franchisees and have developed (and also support) more than 270 individually owned and operated The UPS Store locations across San Diego, Orange, and Los Angeles counties.
And at a time when small businesses are reeling from the one-two whammy of a global pandemic layered on top of an economic recession, he cannot think of a better company to support the community.
Small business owners often struggle with technology and other items "that only a larger corporation such as The UPS Store can provide to us in a cost-effective way," says Williams, citing examples such as digital mass marketing.
"To have a large corporation make those resources available, and to (be able to) scale down in a cost-effective way, (is) a perfect scenario for any franchisee."
Functional and Accessible Redesign
This focus on flexibility and personalization is precisely why The UPS Store embarked on its ambitious, multi-year redesign of its retail outlets.
"In retail, you want to remain fresh and in tune with customers," says Michelle Van Slyke, SVP marketing & sales for The UPS Store, Inc. "We wanted to update our operations in order to better support our customers. So, a lot of changes in the redesign [had to] deal with functionality and accessibility."
Jeff Wietrzykowski of Columbus-based Chute Gerdeman was brought in as the creative lead on the redesign project.
"The UPS Store center has evolved from a traditional pack-and-ship location to a one-stop shop destination for small business needs," notes Wietrzykowski. Helping small businesses function even betterwas central to an effective redesign, and that's what the design team set out to achieve.
Neighborhood Hub
As part of its research, the design team donned uniforms and walked in its customer's shoes, to get a feel for what the associates needed and to make sure their plans would accommodate the company's massive footprint (approximately 4,900 stores across the country).
"I remember an associate who literally--as the cars were pulling up--knew customers by their mailbox number. She would even deliver the mail to some of them and talk about how their day was going.
"That was an eye opener for us--that the associates within the store are really what makes it great." The strong focus of The UPS Store, Inc. on its franchisees and associates is what guided the redesign.
Customer-friendly Customization
"We wanted to create a space that was flexible for the franchisee, so that they're able to bring in the services they want to focus on," says Wietrzykowski. "The UPS Store is the neighborhood hub, and we wanted to capture that."
Many stores are located in strip malls, which eliminated significant architectural changes. So, the new design instead took a modular approach, giving franchisees a wide range of components to choose from to customize their stores.
"If they want to build their print service, we have a variety of fixtures they can use to increase that presence. If they want to focus more on pack and ship, the flexible fixtures allow them to grow those different services."
The UPS Store franchisees are in the business of serving the needs of their customers, especially the small business customers who depend on the stores. The new design deepens this relationship by improving on a variety of in-store efficiencies.
The emphasis on flexible and customer-friendly design seems to have worked to the advantage of The UPS Store network, including allowing for quick reconfiguration in response to the pandemic. People are understandably wary about venturing out into the world, but the flexibility built into the redesign allows for safe spacing, easy installation of physical barriers, and other protections.
"I think today, more than ever, given the position that we're in with this pandemic, people just want to hear that you are there to help," Williams points out.
The UPS Store, Inc. believes that the center redesign helps franchisees build their businesses better, which helps them serve their small business customers as a one-stop shop better, which, ultimately, helps our small business-powered economy.
On your corner and in your corner.
A winning combination indeed.
Interested in bringing our new store design to an area near you? Learn more about becoming a franchisee with The UPS Store here.
This communication is not an offer to sell a franchise. Any franchise offer is made only after a Franchise Disclosure Document has been provided. The UPS Store, Inc., 6060 Cornerstone Court West, San Diego, CA 92121-3795, Minnesota File Nos. 8229 and 8230
Oct 1, 2020