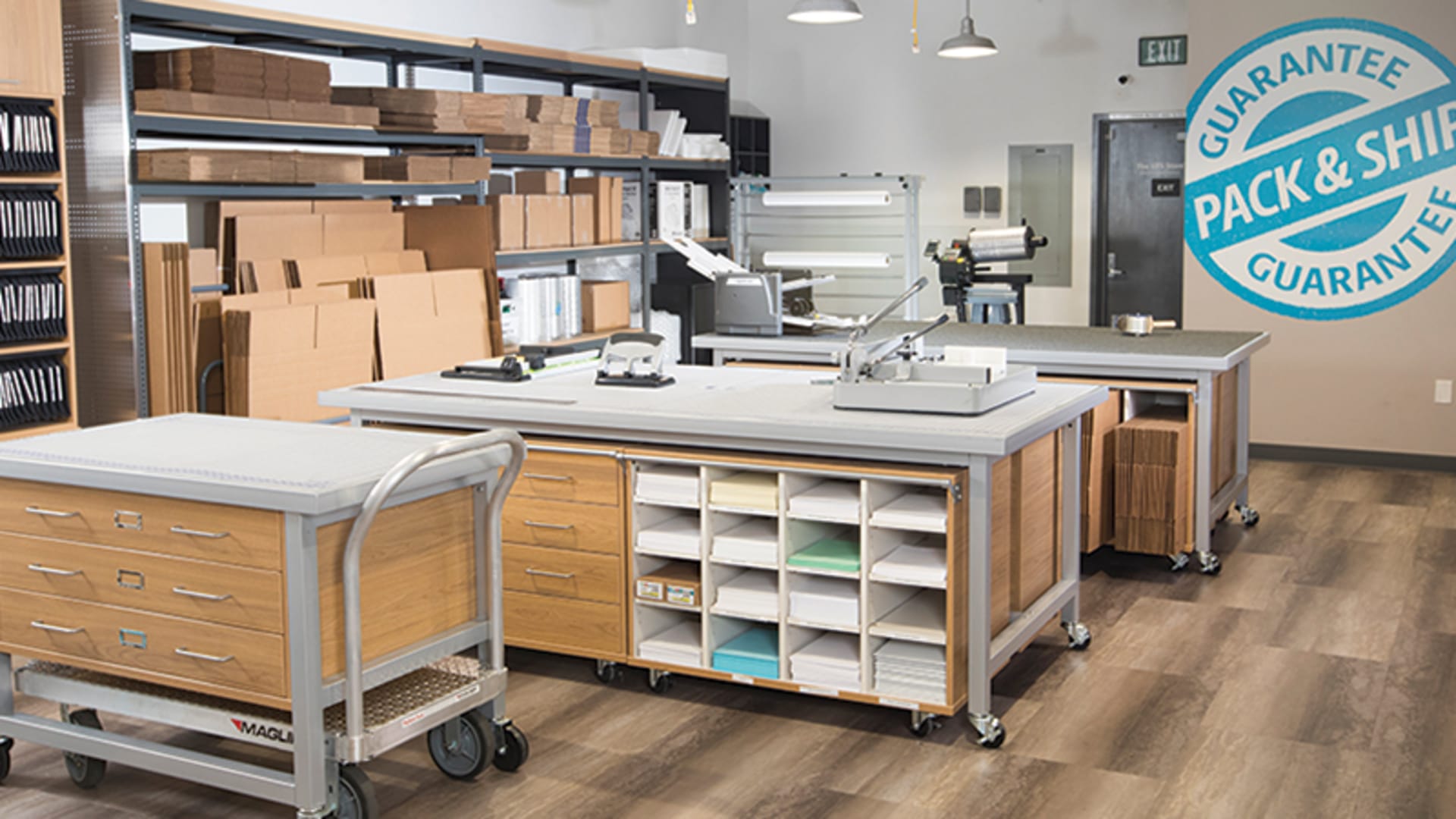 From Day 1, The UPS Store® has put customers first, especially the small business customers who depend on these stores for a wide variety of business needs and demands. This customer-centric mindset compels The UPS Store, Inc. to constantly look for ways to better serve all of the brand's customers.
Recently, The UPS Store, Inc. undertook a massive redesign project--one that addressed the myriad ways centers could provide customers with a better, faster, and more efficient experience.
Promoting Partnership
Though the center redesign project preceded the COVID-19 outbreak, many of the new features allow for conducting business quickly and safely.
"The new setup gives small business owners a place to interact without feeling rushed, as we've created a space away from other transactions," says Michelle Van Slyke, SVP marketing & sales for The UPS Store, Inc. "The design creates a more engaging, partnership-like environment between small business customers and center associates.
"One example we are excited to offer is a print consultation area specifically crafted for small business owners to collaborate with center associates on their specific business needs."
And at a time when many small businesses cannot conduct "business as usual" due to the global pandemic, this partnership approach is even more important.
Keeping in Touch With Customers
The wide range of services offered by The UPS Store centers - from a dedicated street address, to collateral production, to notary services, to bulk shredding - is helping many small businesses stay afloat as they navigate the pandemic. And Van Slyke offers a reminder that effective digital marketing - key to growing your business - doesn't have to be complicated.
"Simple steps, like claiming your business on Google or keeping your hours updated on Yelp, can make all the difference," she says. Most important? Keep in touch with your customers.
"Whether by email or through other CRM tools, it's important to stay connected to your clientele. Small businesses have been through so much this year, and being transparent is the easiest thing you can do to maintain your customer base."
Accommodating and Adapting Are Key
One customer relying heavily on The UPS Store services is Sean McWherter, founder and CEO of Autoplicity.com, an online motor vehicle parts dealer. Chicago-based Autoplicity.com sells more than 14 million auto, boat, RV, and power-sourced parts online, making it the largest selection of motor vehicle parts in the world.
For a high-volume e-commerce site like Autoplicity.com, the ease of working with The UPS Store center associates on seamless returns was a huge selling point.
"Nobody expected, in the midst of coronavirus, for sales to be through the roof," notes McWherter. "For the first 10 days, they were down 15 percent, and we were preparing for that to be the new normal. And then PPP money started coming out, and all of a sudden people [were] spending more money than ever."
The more people spent, the more McWherter shipped. Fortunately for Autoplicity.com, The UPS Store center associates were more than up to the task.
The adaptability and flexibility that has helped McWherter's success is embodied in what The UPS Store, Inc. has done with its center redesign. By focusing on the customer experience and working diligently to upgrade customer service to a whole new level, The UPS Store network has once again proven itself to be an essential business partner in any business climate or landscape.
Interested in bringing our new store design to an area near you? Learn more about becoming a franchisee with The UPS Store here.
This communication is not an offer to sell a franchise. Any franchise offer is made only after a Franchise Disclosure Document has been provided. The UPS Store, Inc., 6060 Cornerstone Court West, San Diego, CA 92121-3795, Minnesota File Nos. 8229 and 8230
Oct 1, 2020