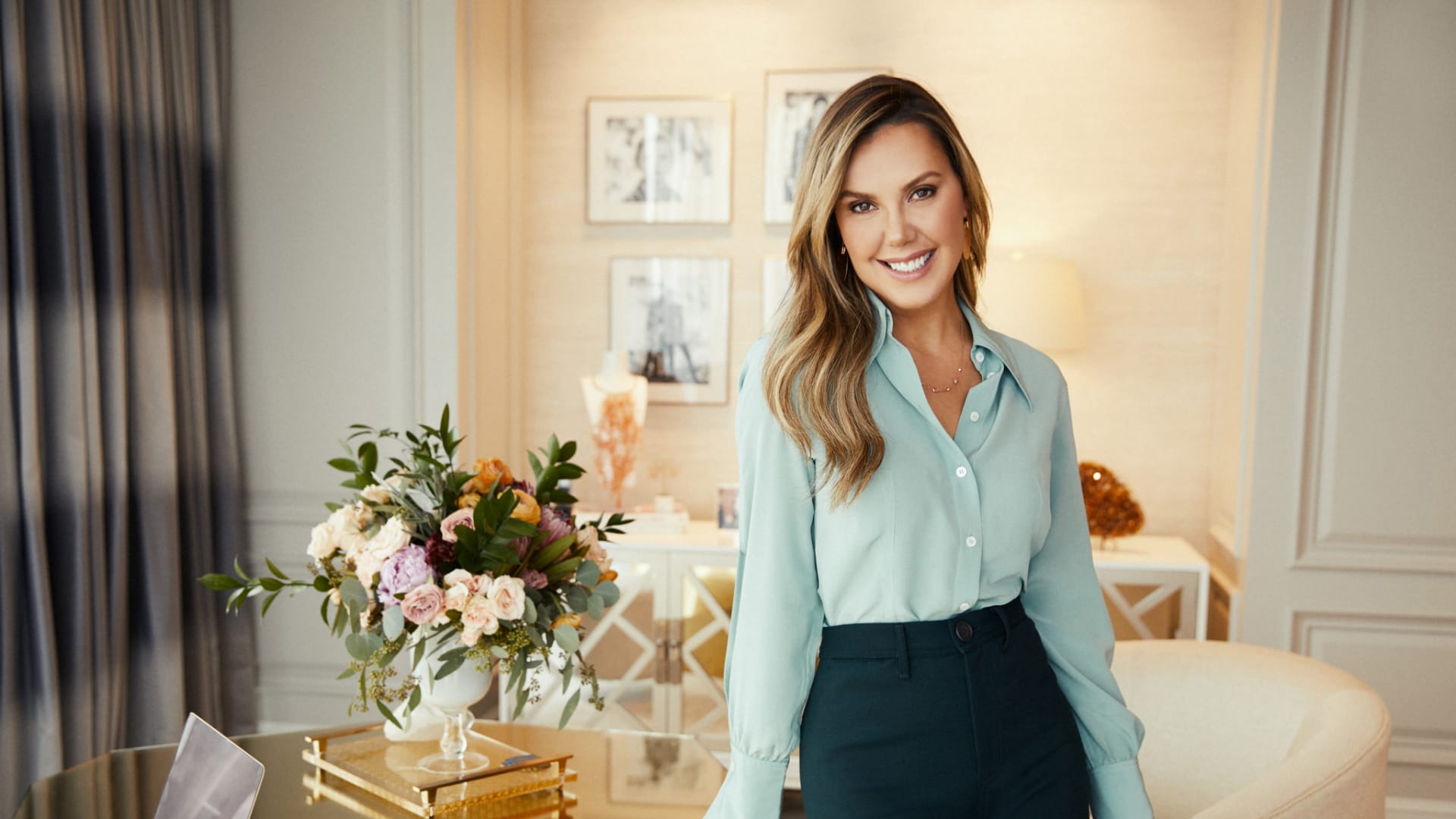 "I feel like I'm on the set of Shark Tank right now--that was soo good!" gushes Kendra Scott over the sound of a cheering roomful of college-age women.
It's the final day of the Women in Entrepreneurship class at the University of Texas at Austin, where Scott in 2019 announced the creation of a new institute focused on women in business: The Kendra Scott Women's Entrepreneurial Leadership Institute, or WELI. After an awkward first year of Covid-era Zoom classes, the institute is finally finishing up its first semester of in-person classes and realizing its vision in full, and this last class is a startup pitch demo day.
"What I love, love, love," Scott says to the group of five students who've just pitched the first student startup of the night, "is that you found white space in a $511 billion industry, and your idea is disruptive." The pitch proposed a line of makeup and beauty education for pre-teen girls, ages 8 to 11. Scott asks the group to consider whether they're thinking too small. Should they pursue an even bigger slice of the market for their concept of "clean, confident, and carefree beauty"?
At the same time, research shows that women-led companies perform better than those led by men: According to S&P Global, they're more profitable, and their stocks perform better.
The statistics are all too familiar. Scott, whose eponymous jewelry company's employees are 95 percent women, decided a few years ago that it was time to apply her entrepreneurial instincts to the problem. In 2019, she announced a $1 million donation to UT to create the institute. Since then, she's handed her CEO duties off to a longtime executive at her company, Tom Nolan, and put her energy into education--including co-teaching (with serial tech entrepreneur Jan Ryan) the class culminating this night.
Open to All
An hour before the pitch session, Scott sits in a creamy white swivel chair next to the golden-hued geometric desk in her corner office of her namesake company and explains her vision and how it developed.
A college dropout who launched her company without a formal business education, Scott eventually enrolled in a course run by Entrepreneurs' Organization at MIT in which well-known founders teach the fundamentals of their success. "And I remember walking into that class," she says, "still struggling with this notion that I was a jewelry designer, an artist, I couldn't really be a CEO--this idea that you have left-brain people and right-brain people, business people and arts people. But I wanted to learn business, too."
That frustration she remembers--and her sense that it persists for many young women today--is at the heart of how she envisioned WELI. "Seeing how so many women don't even sign up for some of these classes, because they're intimidated to walk in the classroom where they'll be a minority, was shocking to me," she says.
A disincentive to explore business education, Scott argues, is one of the roots of women's under-representation in the entrepreneurial elite. (For that matter, she says, a parallel argument could be made about engineering or other male-dominated subjects.)
Her solution is to encourage experimentation, to not only offer a range of courses in the new institute but to negotiate with leaders in other parts of the university to open up some of their classes to WELI students who wouldn't otherwise be able to take them. "One of the things I'm trying to do with this institute is to allow these women an opportunity to take a class, even if they're not enrolled in the McCombs Business School or going to get an advanced degree. It might open up a new opportunity or interest."
She imagines a political science major taking classes through WELI and emerging more well-rounded and with better-honed leadership skills--not just understanding political issues but having some of the tools to be an effective politician. Or, say, a talented jewelry designer emerging with the ability to turn her creations into a brand.
Rather than setting it up as a part of McCombs, Scott established her institute as an interdisciplinary program open to students from any part of the university. Its physical center is in the college of fine arts. Starting in 2022, the McCombs school will offer a new WELI specialization within its entrepreneurship minor.
Concrete Steps
The official course description for FA371, the Women in Entrepreneurship course concluding with the pitch demos, promises "to provide hands-on, tangible tools to equip and empower female entrepreneurs ... The goal of this class is to confront common gender biases and conditions."
It's both a lofty goal and a utilitarian one, and it's something Scott says she's sought to address in her company as well. Because Kendra Scott is such a female-dominated firm, "we are creating a kind of utopia," she says. "That's not the real world, and I've heard from a lot of our women leaders, if they do go into another company they'll be like, 'Oh, my god, this is so different.'"
To take one example of how she's coaching students to navigate biases, she cites the tendency for women and men to be asked different kinds of questions in pitch meetings with investors. (Harvard Business Review calls them preventive versus promotion questions; women get asked about barriers to success, while men get asked about potential for success.) "How do you control that conversation?" says Scott. "Are you going to let them drive the narrative, or are you going to be able, mid-presentation, to say, 'Let's talk about the opportunities'?
"Or when you walk in the room and they kind of look at each other, sometimes you have to attack that right in the face and identify it, like, 'Well, I'm the only one wearing a dress here today. Awesome. Let's talk.'"
Scott says one of her most common teaching techniques is drawing from various scenarios she's encountered in her decades of experience building a billion-dollar brand and then role-playing with her students. She plays the difficult guy.
Other WELI courses have included a hands-on practicum in which students create a Kendra Scott jewelry collection and bring it to market, learning every step of creating, manufacturing, and selling a new product; a primer on commercializing STEM technologies in the college of engineering; and a women's leadership course.
Access Granted
Back at the end-of-semester pitch session, Scott sits at a long table alongside three other women who act essentially as her co-Sharks: Kathryn Cavanaugh, managing partner of Capstar Ventures, a VC fund that Scott is involved with; Beth Goff-McMillan, CEO of fast-growing office-furniture dealer SKG; and Sara Brand, founding partner of True Wealth Ventures, a fund that invests in female-founded companies.
Standout student startups include Gal Garage, which aims to certify auto-repair shops for transparency and solid service; Cherry Picked, a universal shopping cart for new moms; and Fresh Face, the preteen beauty brand. There are 31 students in the class and six companies. Afterwards, Scott is still buzzing about some of them; Gal Garage, in particular, got all of the mock investors excited and asking questions about how it could work.
But perhaps the biggest priority for Scott, now that the Kendra Scott Women's Entrepreneurial Leadership Institute has a proper semester under its belt, is figuring out how to grow it. "I want to see more women that go through this program be able to start and build businesses of their own, so that we can start to have more female founders out there," she says. "And I want to be able to track this over time to see that the things that we're teaching, the tools that we're giving them, are causing these things to actually occur."
Those results will take time, but in the meanwhile there will be more classes offered directly by WELI, and more classes in other disciplines that are open to WELI students. Perhaps there will be sister institutes taking shape at other major universities; several have inquired already, Scott says, and she and UT have begun talking about how to reproduce the program and export it.
Dec 13, 2021