Each year the number of tech conferences seems to increase. Wondering which conferences were remaining in 2016? Here's a list of the top eight conferences remaining this year. There are a few other conferences out there like Content Marketing World and Inbound, however, those are more about marketing. This list contains conferences strictly around tech, web, mobile, and the future.
1. Web Summit
(http://www.websummit.net)
Dates:
Location:
Tickets:
Twitter:
The largest tech conference in Europe, Web Summit has grown from 400 attendees to 50,000+ in 6 years. It's an eclectic mix of innovative startups, investors, and Fortune 500 companies across multiple industries.
Hundreds of Speakers, featuring: Dave McClure, 500 Startups, John Chambers, CEO , Cisco, Lilly Cole, Linda Boff, CMO GE, Werner Vogels, CTO Amazon and others.
----------------------
Marissa Mayer & Michael Arrington at TC Disrupt (photo credit: Kevin Krejci on Wikipedia.
2. Tech Crunch Disrupt: SF
(https://techcrunch.com/event-info/disrupt-sf-2016/)
Location:
Dates:
Tickets:
Twitter:
TechCrunch Disrupt is the world's leading authority in debuting revolutionary startups, introducing game-changing technologies and discussing what's top of mind for the tech industry's key innovators. Disrupt gathers the best and brightest entrepreneurs, investors, hackers, and tech fans for on-stage interviews, the Startup Battlefield competition, a 24-hour Hackathon, Startup Alley, Hardware Alley, and After Parties.
25+ speakers Padmasree Warrior (CEO, NextEv), Marc Andreessen, Marc Benioff
--------------
Tim Cook Q&A at WSJD Live. Image credit: The Verge.
3. WSJ Digital Live
(http://wsjdlive.wsj.com/)
Dates:
Location:
Tickets:
Invite Only
Twitter:
This October, The Wall Street Journal's senior editors will once again host WSJDLive, the global technology conference that brings together an unmatched and unique group of top CEOs, inspirational founders, game-changing pioneers, enterprising investors and luminaries to explore the most exciting tech opportunities emerging around the world. 40 + of the who's who in tech:
Speakers include Marc Benioff (CEO, Salesforce), Reed Hastings (CEO, Netflix), Beth Comstock (Vice Chair, GE), Satya Nadella (CEO, MIcrosoft), Cheryl Sandberg (COO, Facebook & more)
------------------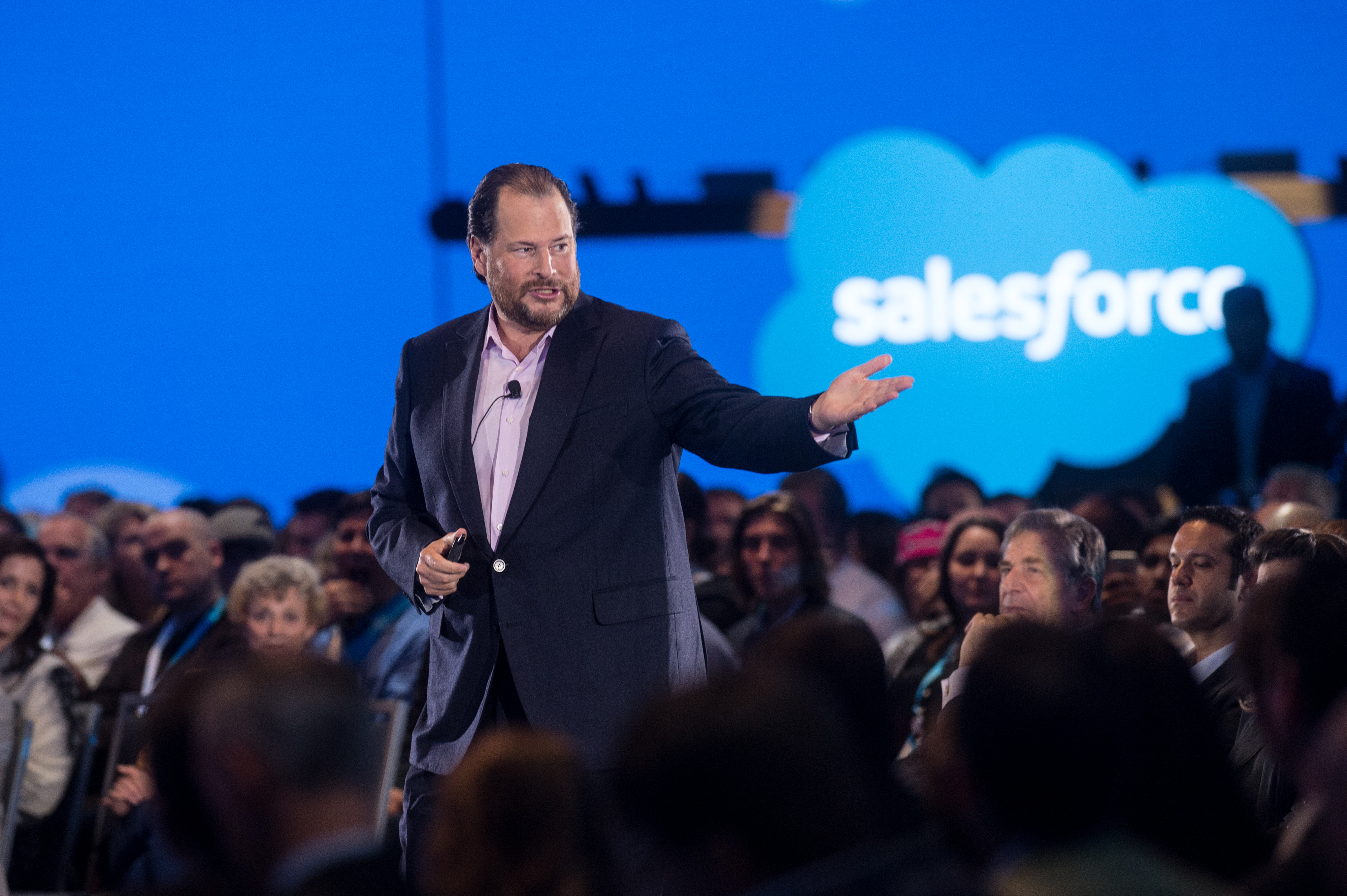 Salesforce CEO Marc Benioff speaks at Dreamforce. Image credit: Salesforce
4. Dreamforce
(https://www.salesforce.com/dreamforce/DF16/)
Dates:
Location:
Tickets:
Twitter:
Dreamforce is Salesforce's annual conference, bringing together over a whopping 160,000+ thought leaders, industry pioneers and professionals together in downtown San Francisco. With over 2,000 sessions and thousands of live solutions from the world's largest cloud ecosystem, Dreamforce has tailored content specific to your industry, role, and company size. Whether you're a company of five or a Fortune 500, you're going to see a boom in success by coming to Dreamforce.
Top speakers include: Melinda Gates, Tony Robbins, Mary T Robbins (CEO, GM)
----------------
Elon Musk & Re/Code's Kara Swisher & Walt Mossberg. Photo credit: Asa Mathat
5. Code/Enterprise
(https://events.recode.net/events/code-enterprise/)
Dates:
Location:
Tickets:
Twitter:
The rules of work have changed. And to succeed tomorrow, you must adapt today. Welcome to Code Enterprise, where you'll learn the impact that company culture, diversity, new technologies and the gig economy will have on your business, and how to leverage it all for success. Join us as we explore the new world of enterprise over two days of hands-on workshops and unscripted interviews.
8+ speakers: Founder and Chief Designer, fuseproject Yves Behar, Diane Greene, SVP Google, Jeff Lawson, CEO of Twilio
----------------
Travis Kalanick, CEO of UBER - Photo Credit: Dan Taylor/Heisenberg Media
6. DLD
(http://dldtelaviv.evolero.com/2016)
Dates:
Location:
Tickets:
Twitter:
DLD (Digital-Life-Design) is a network on innovation, digitization, science and culture. Conferences that connect business, creative and social leaders, opinion-formers and influencers for crossover conversation and inspiration. DLD Tel Aviv will bring together hundreds of start ups, VC's, angel investors and industry leaders in an unexpected way to create potent output for the digital space.
Speakers include: Stphane Richard, Chief Executive and Chairman - Orange, Dave McClure - Founding Partner, 500 Startups, Don Dodge - Google
----------------
Robert Scoble speaks at Compute Midwest.Photo credit: Simon Kuo
7. Compute Midwest
(http://www.computemidwest.com)
Date:
Location:
Tickets:
Twitter:
Kansas City? That's right. Hailing from the first city chosen for Google Fiber, Compute Midwest is one of the world's leading future-focused tech conferences. 1000+ attendees exploring the technologies transforming tomorrow & learning how the world class speakers overcame enormous challenges to create breakthrough innovations. Topics include: Self Driving Cars, Robots, Space Travel, Artificial Intelligence & more.
Alexis Ohanian, Co-Founder of Reddit: "I've been fortunate enough to speak all over the world, but what I found at ComputeMidwest was something really special-entrepreneurship has a great stage in KC thanks to this conference."
This conference has attracted some of the world's most innovative & influential people in tech over the past 5 years, including Robert Scoble, Alexis Ohanian, Stephen Wolfram, Cynthia Breazeal, John Underkoffler & more. This year line-up features the Chairman & COO of Hyperloop Transport Technologies, Bibop Gresta, as well as NASA's Mars 2020 project - Jordan Evans.
----------------
8. Huawei Connect 2016
(http://www.huawei.com/minisite/huaweiconnect2016/) Dates: August 31st-Sept 2nd Location: Shanghai, China Tickets: Invite Only Twitter: @Huawei HUAWEI CONNECT is an integrated conference for the global ICT ecosystem. Over 15,000 industry leaders will come together in Shanghai to build a better-connected world, make a smarter society, and to shape the digital transformation of industries.
With the emergence of 5G being driven by Huawei partnerships with telecom carriers around the globe, this should be an interesting conference to keep an eye on.
Speakers include the CEO of Intel, CIO of SAP,
----------------
I'll be at the Web Summit, Huawei Connect, Dreamforce, Compute Midwest, and perhaps WSJ Digital Day with press. If you are at any of these events, don't hesitate to connect.
Aug 16, 2016