By partnering with 45 of the top 50 global phone carriers, Huawei has, in less than 30 years of existence, become one of China's biggest technology companies. In the last five years, they've become the number three manufacturer of smartphones in the world. Huawei is set up for massive success in 5G, and 5G is going to dramatically change the world. Huawei is growing at an unheard of pace, and they are doing so with transparency, openness, collaboration, and an attitude of "win-win."
Maybe you've never heard of Huawei? If not, I bet you have no idea how to even pronounce it. I didn't. And the unknown may scare you. Or perhaps you remembered that in 2013, Time Magazine wrote about Huawei being the Chinese company that Washington is afraid of. In October 2012, the White House reported that they found no evidence of Huawei spying for China. Then in 2014, Snowden released a leak that CNN reported on, that the NSA actually hacked the Chinese telecom company.
So who knows what to think of all of this?
What I do know is that only 0.3% of all of Huawei's revenue comes from the U.S. market. I wanted to learn more, first-hand, about this company, that is currently growing at 40% year over year. Learning more about Chinese business has been a pursuit of mine.
Eight years ago, I read an article called, "You Have Seven Years to Learn Mandarin." Now you can see the truth in that statement. Business in China has exploded over the past 20 years. See Shanghai in 1996 and Shanghai today. The difference is astounding.
When Huawei reached out and asked if I wanted to come to it's first ever Developer, Cloud, and Carrier conference, called Huawei Connect 2016, I immediately agreed. Back in 2011, I went to Las Vegas for an LG Mobile CES event with Arnold Aranez, a Huawei key opinion leader, who had recommended me to be one of the first US-based key opinion leaders. It shows you the power of networks and relationships, which I talk about in my upcoming Wiley book, Digital Sense.
In late August, Huawei flew out a few western-based KOLs, "key opinion leaders", to Shanghai to experience Huawei first-hand, August 31st-September 2nd at the Connect conference. Some of the attendees were Robert Scoble, Peter Shankman, Patrick Moorhead, Diana Adams, Adel De Meyer, Marsha Collier, Glen Gilmore, Hillel Fuld, Chris Rauschnot, Bill Cody, and others, including myself. (Links are the recaps/opinions of Huawei's key opinion leaders on the Connect 2016 event.) They paid for our travel out there and asked us for nothing in return, and they are not providing any compensation, otherwise. In fact, I missed out on some paid stuff while we were in China.
I was excited to learn about the hard-to-pronounce company.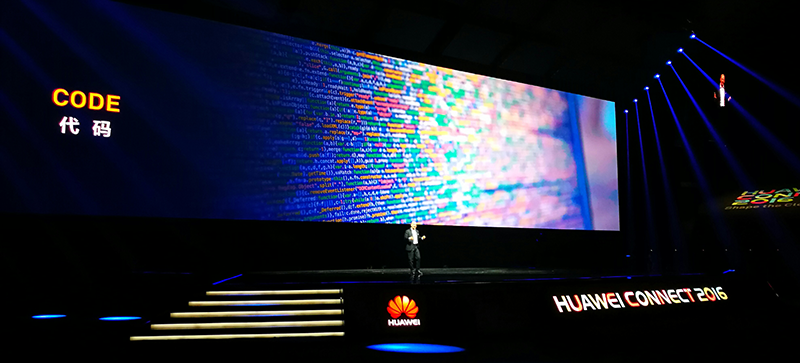 Huawei began with Humble Beginnings
The company was founded in 1987 by Ren Zhengfei, an ex-military officer. Originally formed as a private company, Huawei was initially started as a sales agent where it resold private branch exchange switches -- PABX systems -- in Shenzhen for the first two years. After that, they sold their products that they manufactured to carriers in rural China.
Ren built the business by first servicing developing, underserved countries, which is why the western world hasn't heard much about Huawei, yet.
They even work in some very remote areas. Huawei workers can parachute into the remote parts of a jungle, with their "Penguin Backpack" device and have a new mobile network set up in minutes. They've maintained service in Afghanistan throughout the conflicts. And if there is an earthquake or some tragedy in a country they serve, they are immediately there with boots on the ground.
The company now has around 170,000 employees working in over 170 countries. And get this, the company is 98.6% employee-owned. The founder, Mr. Ren, has the other 1.4%. Huawei has three rotating CEOs; that rotate every six months. This distributes power. They have no outside shareholders to answer to, as all 82,000 shareholders are all former and current employees.
A 400-Year Vision of Connecting the World
Huawei is not focused on the next quarterly report; they care about the next quarter century. They are completely open and transparent, and they have a 20-year vision & strategy in place. In fact, one of the keynote speakers mentioned that Huawei intends to be around in 400 years providing services to their customers and partners.
They are China's biggest technology company.
Huawei has a Vision of Connecting the World
They believe that internet and electricity is a basic human right. In some developing countries, they don't even have consistent electricity. Huawei is building smart cities, and cleaner cities, that have helped many countries save on electricity, cut down costs, cut down on repairs, make the infrastructure more secure and emit cleaner emissions.
Their enterprise business is just a "start-up" to them, with almost $5 billion in revenue. However, they recently released many innovations at the Huawei Connect 2016 event, in Shanghai. They released 31 new services to their FusionCloud. Here's a look at all of the Huawei Enterprise services. It's crazy to see a company do all of this simultaneously.
Their carrier support business is a big part of their revenue. They supply many pieces that make up the backbone and pipe of many countries phone and data services. As I mentioned, they partner with 45 out of the top 50 carriers worldwide. You will find Huawei base stations in half of all new 4G rollouts worldwide. They are positioned well to be HUGE when 5G hits.
Huawei is also just a baby in the consumer electronics space, but in just under five years, they've already become the #3 phone manufacturer in the world. Its phones take the best pictures that I've personally ever witnessed from a phone. And that is coming from an Apple fanboy. However, the Huawei devices are a bit weak on GPU, up to 5x less than the iPhone 6s, and Apple will be improving
However, the Huawei devices are a bit weak on GPU. Up to 5x less than the iPhone 6s, and Apple will be improving upon that this week at their announcements. Huawei's current smartphones aren't well suited for mobile-based virtual reality, yet, but that isn't it's market.
"Our consumer products customers care about two things, primarily, battery life and a great camera." William Xu, Executive Director of the Board - Chief Strategy Marketing Officer, said in a private interview.
Speaking of, while we were in Shanghai at the Huawei Connect event, Huawei released a new line of "nova" smartphones at an event in Berlin, to go along with their world-class P9 phone and the recently announced Honor 8.
But Huawei isn't just a consumer products, B2C company. Most of their revenue is from their B2B side of things. And they are growing rapidly.
Incredible Growth Trajectory
In 2013, Huawei did $36 billion. In 2014, they did $46b. In 2015, Huawei did $62b. They are trending over $80b this year. And in 2020, they project $150b in annual revenue!
Well, Huawei owns many of the patents and technologies for 5G, which will begin rolling out worldwide in 2020, with standards being agreed upon in 2018. Huawei is projecting 5G will hit speeds up to 10 Gbps, while I'm seen other mention 20-30gbps. That's 10-30 Google Fiber connections at once.
As data speeds increase, data file sizes also increase. 5G will build on the foundation created by 4G LTE. It will dramatically increase the speed at which data is transferred across the network. Millions of internet-connected devices will use 5G to download and upload Ultra HD and 3D video.
We will essentially be upgrading your data connection from a fire hose to ten fire hoses. The difference will be noticeable. With 4k video, and Japan launching 8k video for the Rio Olympics, the amount of data flying around us, at all times, will be mind-boggling.
"The Chinese are coming and this is the company that is positioned the best to become the world mobile brand that most people around the world use and that everyone looks up to." said Robert Scoble, futurist, and tech blogger.
Committed to Research and Development
Huawei is also committed to spending 12%+ of its annual revenue in R&D. The R&D of the company is spread across many countries like UK, Pakistan, Canada, Turkey, Ireland, Sweden, Russia, etc. In fact, almost 50% of their employees are in research and development. In 2015, they spent a little over $9b on R&D.
This is helping them find unique solutions to the problems of their customers, and consumers. As their revenue grows, they will soon become the largest research and development company in the world. They have all of the manufacturing they need right here in China, and they are coming for U.S. tech companies profit margins.
Familiarize yourself with Huawei, which is pronounced Hwah-way.
IMO, more companies should mold themselves around Huawei's ownership model, transparency, and openness. It's quite possibly, a unique leadership and vision of any company in the world.
By creating a culture of openness, the Huawei organization has continued to grow. Many of the top executives at the company have worked at Huawei over 20 years. Employees just don't leave the company. They grow and grow and grow.
Mr. Ren once famously said to his early employees, "Make sure to get an apartment on the east side facing the sun, with a balcony. You will have so much money stacked up that you will need the sunlight to help it from getting moldy."
And they are only 29 years into their 400-year roadmap. How are you going to compete with that? Huawei is only competing with itself. They are partnering with great companies and helping create a better-connected world.
The future is in working together.
Sep 2, 2016