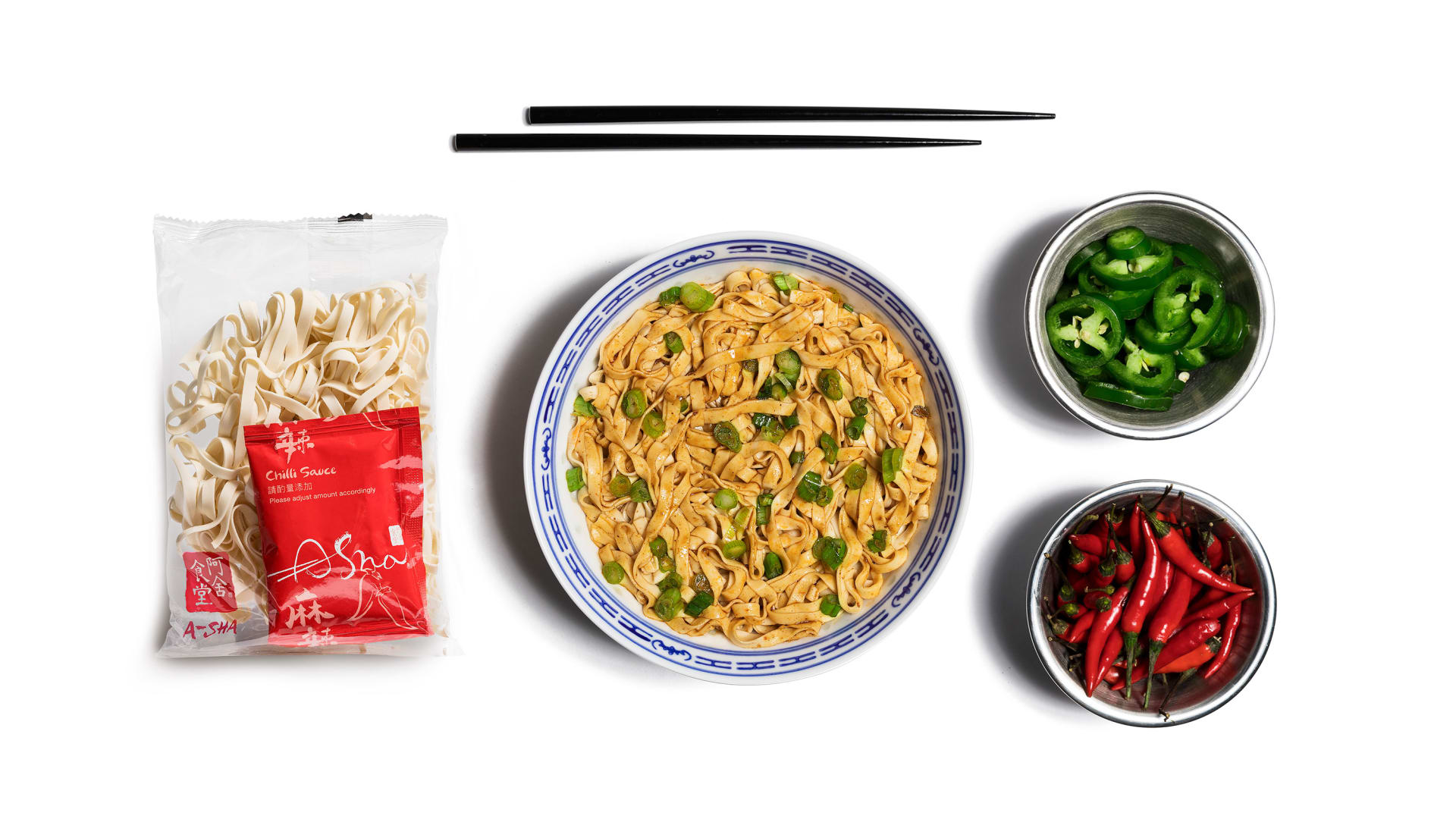 Young Chang wasn't sure he should let go of his high-paying job at Warner Bros. and enter the ramen business. His brother-in-law Henry Liao asked him three times to become a partner with him to sell Taiwanese instant ramen noodles in America, which Chang had thrice refused. Then he had second thoughts. Born in Minnesota to Taiwanese parents, the now 44-year-old Chang ultimately decided to step out of his comfort zone and be his own boss. In 2015, A-Sha USA was born in Alhambra, California, with the idea of changing consumers' perspectives about this inexpensive meal hack, and elevating the ramen game. --As told to Xintian Tina Wang
I worked in corporate environments for 18 years in Los Angeles, and I really enjoyed the comfortable life. One day, my brother-in-law Henry Liao told me he had bought a historical Taiwan-based ramen noodle brand and he wanted me to be his business partner to sell this ramen to America. I was suspicious at that time, because growing up in the States, instant noodles were very cheap and not healthy. I just didn't see myself selling cup noodles. However, Henry was persistent and I finally went back to Taiwan with him to try out this noodle. I was surprised that it tasted homemade, so he convinced me to do some side gigs for him while I was working at Warner Bros. full time.
I knew nothing about the food business. I did not know what a distributor was and what a broker was. I just would go in by myself and say, "I have this tasty noodle." So it was very tough in the beginning; I wasn't really sure how to get my products on the shelf. Then I asked myself: Where do I shop and where do I usually go? Back in 2009, I went to the bubble tea shops, and I started to sell our instant ramen to them. Sometimes, people listened to me, but most of the time people thought I was ridiculous and crazy.
It was a struggle for me at that time, because it was a lot of work on the weekends and in the evenings, and I couldn't spend time with my family. I just didn't know if Henry and I could do this, because we both didn't know about the food business. But Henry told me everything we did was going be different from anybody else. We didn't have to try hard to do innovative things, because our mentality was already very different. With that in mind, we kept pushing.
And then, at some point, I got the courage to go talk to supermarkets. I remember the person in charge at Costco telling me, "Do you understand what you're saying to me right now? Even if I say yes, just for you to get enough products to get into every one of our stores, you need to come up with, like, $5 million. Do you have $5 million to even produce the product?" I did not expect this, so I called up my business partner, and he told me to do it. Within six months, we launched at Costco nationally.
This is a very different "strategy." I use the word strategy in quotation marks because we didn't have a strategy. We just had a belief. We believed our products were good and we believed people would like them. I used to fly all over the country to discuss partnership opportunities. I would fly out to New York from California to cook the noodles for potential partners and then fly back. At some point, I realized I wanted to be my own boss, so I quit my job in 2015 and founded A-Sha Foods USA.
The word a-sha means "prestigious" and "exclusive" in Taiwanese. That's what our branding is all about: bringing healthy, homemade-tasting instant noodles to everyone. Coming into the food market, everyone fights for attention. A-Sha has been proud to partner with several influential brands. We are currently partnering with BT21, a group of animated characters co-created by K-pop band BTS and Line Friends, to launch a product in October. This past Valentine's Day, we drew an idea from the film Crazy Rich Asians to create our limited version of $550 "Crazy Rich Ramen," including caviar, knife-cut noodles, and gold flakes. Also, Miami Heat basketball player Duncan Robinson asked us to send him noodles because he has been a fan since college. So we invited him to be our spokesperson in 2020, and he's been an amazing partner of ours for the past two years.
Our ramen comes from a 100-year-old recipe. We really wanted to change people's perception about instant noodles: It's not cheap food. And to start manufacturing food that was healthier, lower in sodium, and kinder to our bodies. Now our ramen sells in all 50 states, Canada, Mexico, Europe, China, and Singapore. Our employees eat our ramen every day in the office for lunch and they can't get enough of it.
I love the food business. It's so impactful. People are buying our products to feed their families. Everything keeps me motivated, and I don't feel like it's work. The only advice I could offer to business leaders is to keep working hard and never miss an opportunity, even if it means taking risks.
EXPLORE MORE Inc. 5000 COMPANIES
Jun 30, 2022