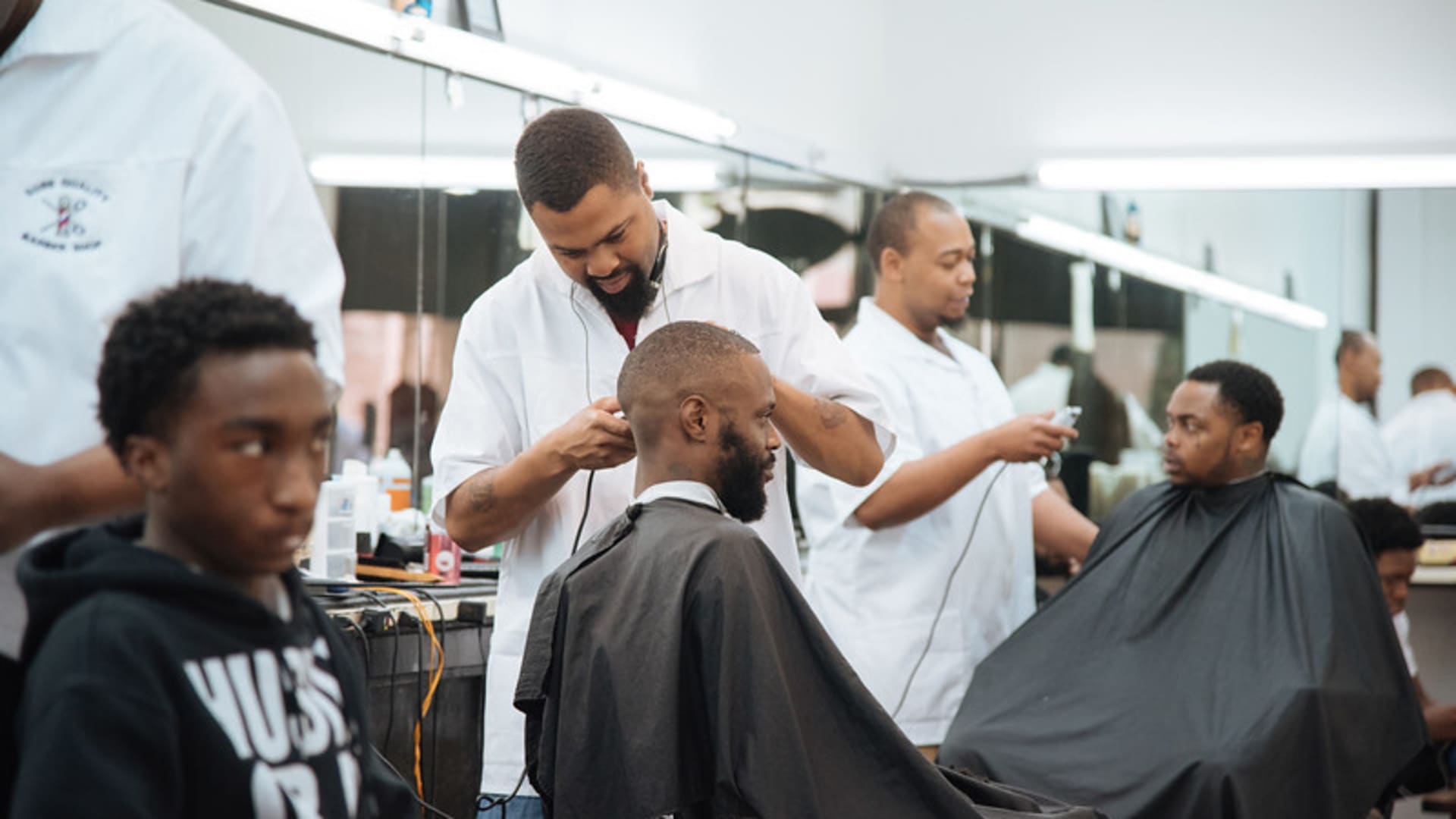 Born to an incarcerated mother, Lorenzo P. Lewis struggled with depression throughout his youth. Growing up, he said his aunt's hair salon brought him comfort. He found that Black barbershops were a space where he could have reflective conversations with members of the Black community of all ages. After a decade of working in behavioral health, Lewis founded the Confess Project, an Arkansas-based social enterprise that offers mental health programs for men of color. In the past six years, his team has trained over 1,300 barbers in more than 46 cities. The business doubled its revenue from last year, mainly from offering online courses and on-site training programs. Fast Company named the Confess Project one of "the 10 most innovative health companies of 2021." --As told to Xintian Tina Wang
I always tell people that my journey started in prison because I was born in prison. Because of the lack of parenthood and mental health resources, I almost re-entered the system of mass incarceration at age 17.
I didn't really notice my journey until I served as a mental health technician for several years. I worked at various private hospitals and community-based clinics in Arkansas such as Rivendell Behavioral Health Services and Pinnacle Pointe (all owned by United Health Services). I also served as a youth care worker with juvenile offenders before I entered the hospital facility. I was seeing myself through a lot of the patients I worked with at the hospitals.
Working on the front line for 14 years, I realized that there was a shortage of Black people working to help folks get the care they deserved. That's when I remembered my childhood experiences at Black barbershops.
My aunt used to own a beauty salon for about 20 years in Arkansas. There's a big part of my childhood when my brother and I went to the hair salon every Saturday just talking about everything that happened throughout the week. The Black hair salon is a safe space where we can talk about anything unapologetically.
So in 2016, I founded the Confess Project in Little Rock, Arkansas, a business that adopts a social entrepreneurial model that is dedicated to transforming barbershops into mental health resources. I was helping Harvard T.H. Chan School of Public Health conduct an eight-month study in which we interviewed over 35 barbers across multiple cities to find out how barbers can be effective listeners and problem solvers in the community on issues such as violence and public safety. The study confirms that Black barbers play an essential role in Black communities as change agents. So we'd like to enhance the visibility of Black barbers and train them to bridge the gap in Black communities between unmet mental health needs and mental health care.
In 2021, we trained 1,500 barbers to be mental health advocates. Each barber reaches 100 clients per month. Currently, we are reaching about two million people in the Black community annually to give out mental health services. The company has a training and advocacy model, in which we charge moderate fees for services and it helps tremendously within our cash flow strategies. We also offer online mental health courses that charge fees. For example, we charged $29.99 for an online course "Trauma-Informed Care & Resiliency."
We also partnered with razor brand Gillette in 2020 to expand our barbershop coalition. We have gone on two tours across the country in key cities such as Philadelphia, New York, and San Francisco. The key to the tour's success is building peer-to peer-relationships. We helped them master skills in listening, validation, communication, and stigma reduction.
I founded the Confess Project with $30,000 of my savings, and the organization has generated about $2 million in revenue this year. We doubled the revenue from last year. Following along our journey, we aim to reach 2,000 barbers trained total in 2022. I want to ensure the Confess Project serves as a frontline awareness organization and resource mobilization for underserved folks before they are forced to go to a hospital facility.
Sep 12, 2022