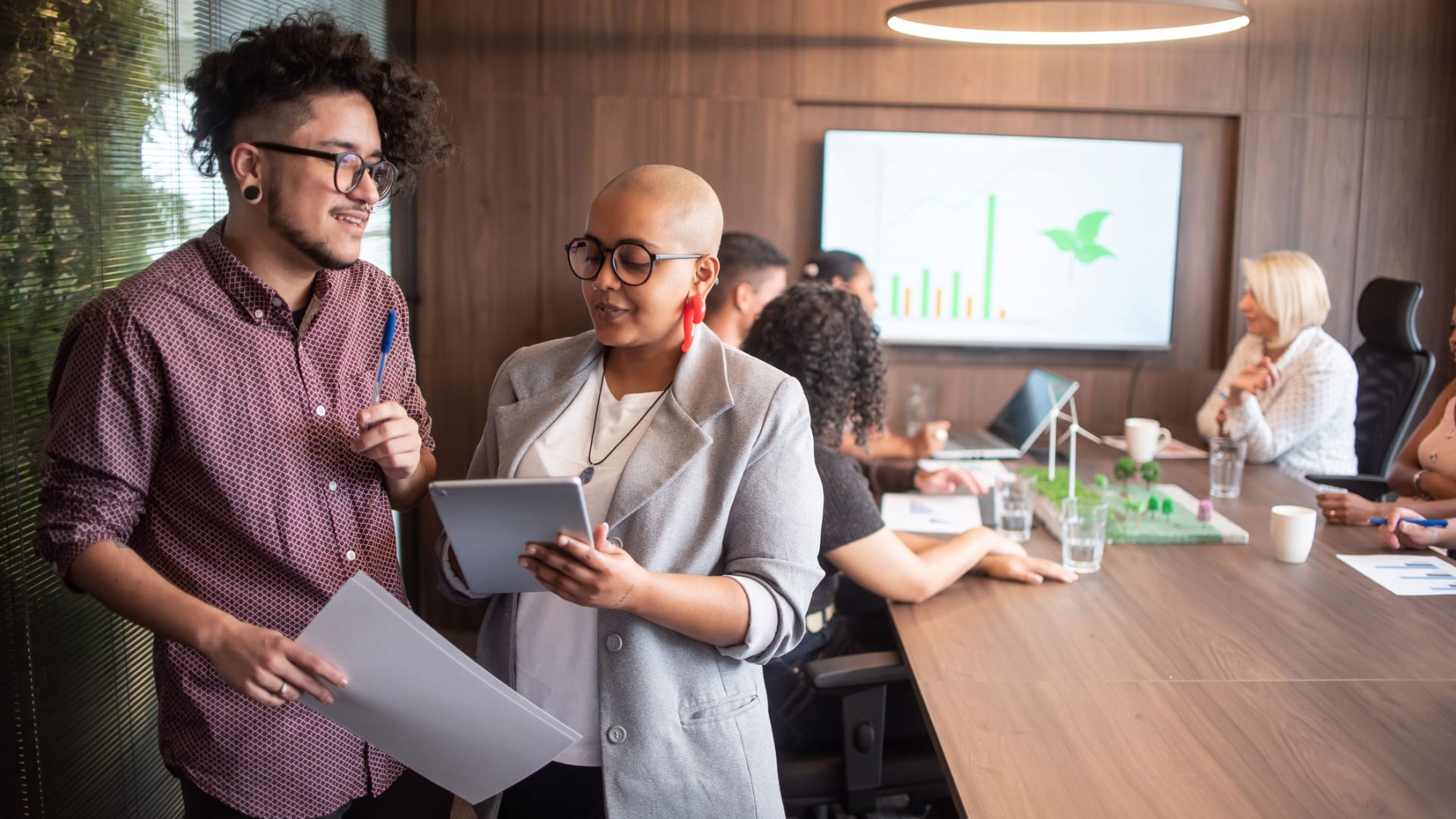 With June comes brands' annual homage to the LGBTQ+ community, with all of the attendant rainbow signage to prove it. Celebrating this community need not be relegated to just one month a year, however.
What's more, doing so can backfire. You may risk coming off as insincere or "rainbow-washing"--that is, offering support for the LGBTQ+ community for the sole purpose of marketing.
"It costs a company nothing to put up a rainbow flag," says Lola Wang, 30, a queer therapist and the founder of Chicago-based psychotherapy agency Fig Tree Counseling, which specializes in helping LGBTQ+ people of color. "There aren't a lot of companies that are willing to donate to LGBTQ+ organizations, but I've seen many brands using eye-catching rainbows across their advertising."
So do avoid anything that smacks of rainbow-washing, and instead offer authenticity. Here are three suggestions plumbed from founders of companies at the forefront of advocacy around LGBTQ+ rights.
Lead by example
You can't easily broadcast inclusivity if your company fails to be inclusive, says Briauna Mariah, 30, founder of New York City-based We Speak Model Management, a modeling agency, staffed in large part by models within the LGBTQ+ community. "Create inclusive internal practices and cultures that are welcoming to all genders and orientations. Go beyond adding pronouns to an email signature, but also incorporate gender-neutral language and practices into the company," she advises.
Mariah adds that it is crucial to seek help from a diversity, equity, and inclusion (DE&I) consulting company to incorporate better practices into your company. She says that employers should have an open mind when it comes to hiring people who "do not present their gender in a way that you would expect them to."
Traci Keen, 41, CEO of Mate Fertility, an Oklahoma City-based fertility care company, agrees. "I am a big believer that you can't have outside what you don't have inside," she says. "Our businesses, our companies need to have the same values that they present to the outer world all the time, not just during a month or on a day."
Keen adds that business owners should ask themselves whether their companies' compositions internally represent the markets and demographics that they are trying to reach externally. If not, Keen says businesses should "seek the diversity inside that you hope to have outside."
You can't play both sides
In June 2021, Popular Information, a newsletter written by journalist Judd Legum, revealed that 25 corporations that have changed their public avatars to include the Pride flag gave more than $10 million to members of Congress with a zero rating on the latest congressional scorecard produced by the Human Rights Campaign, the most prominent LGBTQ rights organization in the United States. Among them include influential businesses like CVS, AT&T, Walmart, and General Motors. When asked if the company would continue supporting politicians with anti-LGBTQ voting records, General Motors told Popular Information: "GM PAC (political action committee) contributes to candidates for a variety of reasons, with a focus on engaging policymakers who play a role in helping General Motors achieve our vision of an all-electric future. While GM PAC contributions do not represent an endorsement of the candidate or support for all the issues the candidate supports, we will continue to clearly communicate with policymakers GM's commitment to diversity, equity, and inclusion." CVS, AT&T, and Walmart did not respond to Inc.'s request for comment in time for publication.
Mariah advises businesses to also make donations to nonprofit organizations that support LGBTQ+ youth and other supportive causes, year-round. "We strive to work with brands that also seek to move margins, celebrate all bodies and identities, and work to undo tokenism by understanding and acting upon the value of letting all people tell their own stories. We are eager to collaborate with industry forces that are relevant and ready to help enforce and expand this shift," Mariah says.
Look beyond gender diversity
Ensuring gender diversity is but one way to create inclusivity. Business leaders should embrace cultural sensitivity of all forms in the workplace, says Keen, adding that doing so can have wider-spread consequences. "An inclusive working environment inherently has an impact on everyone, not just your queer employees. Sometimes people may not experience diversity in their day-to-day lives, but by making the workplace an inclusive space that honors everyone's individuality, businesses can have downstream impacts on communities as a whole outside of the workplace."
At Fig Tree Counseling, Wang aims to hire more culturally competent candidates who can address complex issues that surround race, sex, and cultural identity. "As a business, you need to educate employees about LGBTQ+, and don't leave it up to your LGBTQ+ employees to educate their co-workers," says Wang. "Create an inclusive culture that feels safe for LGBTQ+ employees to be open about themselves."
Jun 17, 2022