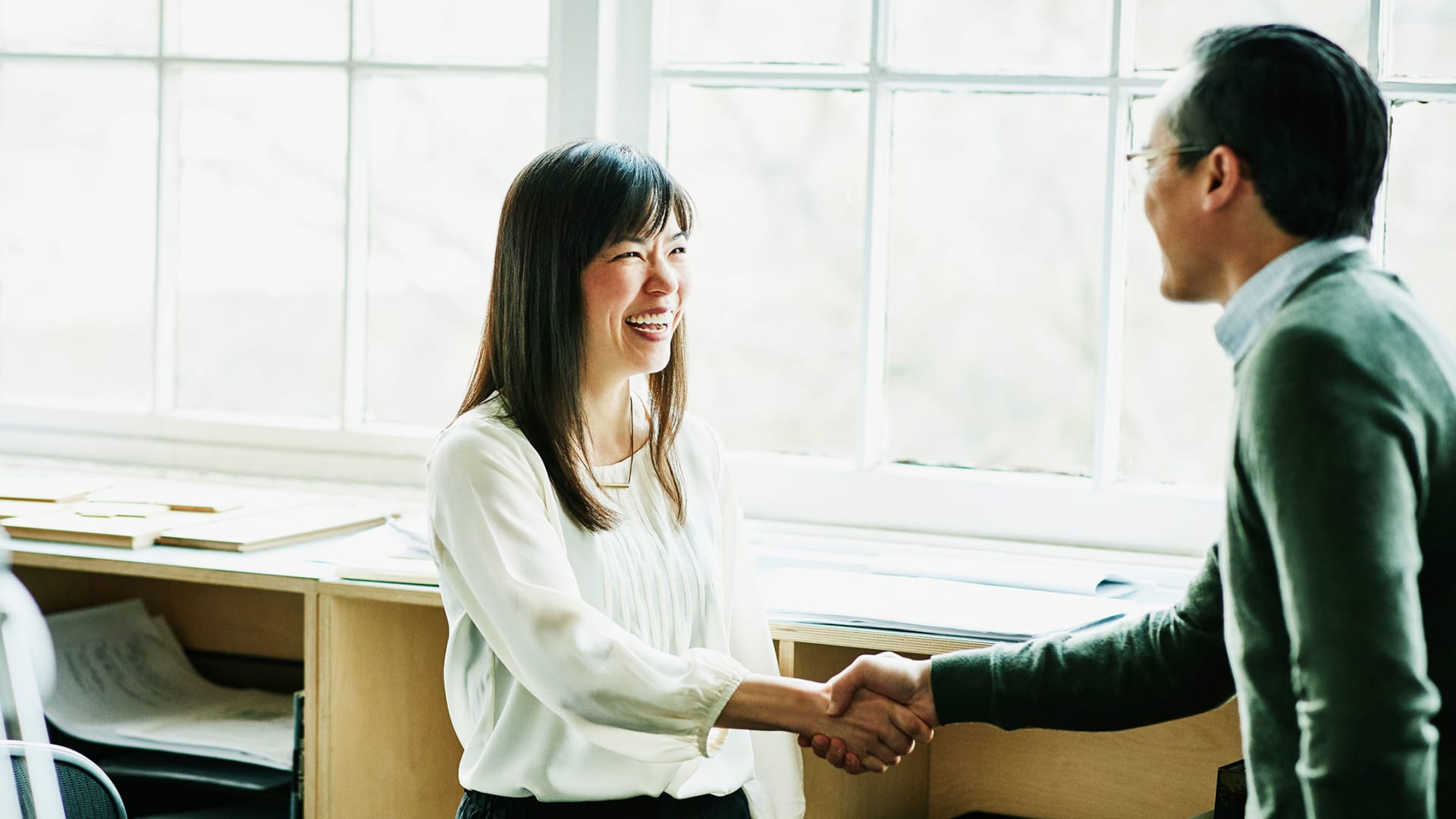 It's often said that you only get one chance at a great first impression. If a prospective partner or customer isn't immediately intrigued, they're unlikely to revisit or consider doing business with you in the future.
To ensure you capture your audience's attention, you'll want to find ways to wow them from the start. To help, a group of entrepreneurs shared their best tips for making a great first impression with a potential new business partner or client. Follow their recommendations to make yourself unforgettable.
1. Do your research.
If you've done your research on your potential client, they will naturally get a good first impression of you, says Kevin Getch, founder and director of digital strategy at Webfor.
"You will be able to provide them with valuable insights before they even ask," Getch adds. "Ultimately, you will know how you can deliver tremendous value, and doing that will show them that you care."
2. Find some common ground.
Piyush Jain, CEO of SIMpalm, says the key to making a great first impression is finding common ground with your potential partner or client. By researching that person on LinkedIn and other networks, you can learn about their past work, locations, interests, hobbies and more.
"I always try to find something common like where they lived, what school they went to or what sports they like," says Jain. "I can always build some story around it, and when I meet them I mention, 'I saw you like this...' This always creates a positive impression."
3. Show up on time.
Whether it's a virtual or in-person discussion, it's critical to be on time when you're meeting with your prospective partner or client.
"People don't like to feel like they are wasting time by waiting on someone, especially a new partner or vendor," says Jean Ginzburg, founder and CEO of JeanGinzburg.com. "Make sure you are always on time for all calls and meetings."
4. Ask thoughtful questions.
According to Eng Tan, CEO and founder of Simplr, people won't care about what you have to offer until they know you care about their business. Tan says you can demonstrate your interest in learning about the business by asking thoughtful, well-researched questions.
"Really listen to the answers," Tan explains. "Beyond making a good first impression, this approach helps you gather the intel needed to tailor your offering and convert the sale."
5. Actively listen and show interest in them.
When you're speaking with a prospective partner or customer, give that person your full, undivided attention and express a genuine interest in them.
"Active listening and positive body language convey that you're engaged in the conversation and want to hear what they have to say," says Jared Atchison, co-founder of WPForms. "This makes them feel heard and noticed and will make you stand out from others."
6. Smile when speaking with them.
A smile can go a long way in creating a positive first impression in the business world, says Nicole Munoz, founder and CEO of Nicole Munoz Consulting, Inc. She recommends opening up with warmth and creating a connection.
"The reality is that body language and your tone are going to do 90 percent of the communicating," says Munoz. "Holding a good visualization in your mind is going to help you propel the right message forward."
7. Be relaxed.
No matter how high-stakes this partnership or client is, remain calm and relaxed during your conversation. Show that you're happy to see them and be genuinely interested in them, both personally and professionally, says Tyler Bray, CEO of TK Trailer Parts.
"Ask simple, polite questions," adds Bray. "Don't sell too hard too fast or shove business cards into their hands right away. If it's meant to be, it will be."
8. Embody your brand.
Daisy Jing, founder of Banish, advises business leaders to "be the brand." In other words, let your brand radiate throughout your conversation so potential new business partners or clients can experience the brand through you.
"Let your identity and personality define what the brand is all about," says Jing.
Mar 22, 2021